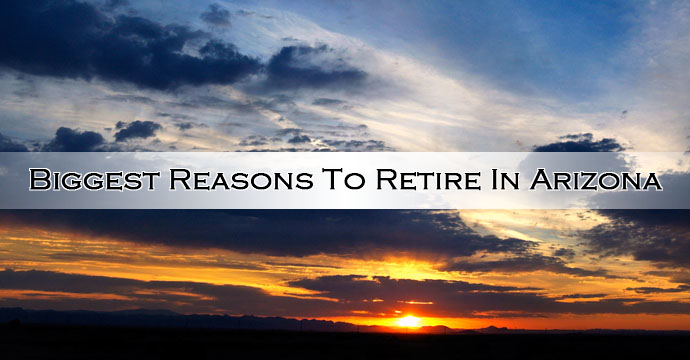 I you are searching for the "biggest reasons to retire in arizona", this post should help. There is a great reason why Arizona has been a great retirement spot for many years now. In fact, over 50 years ago, the first retirement area was developed within the United States. It was called an active adult community which is still located within Sun City, Arizona. It is quite obvious about why people are picking Arizona for their retirement years. It is not just because of the days of sun that it offers, or all of the great golf courses. Take a look at some of the biggest reasons for a person to retire to Arizona and discover why it may be the right place for you.
Biggest Reasons For A Person To Retire To Arizona
One of the biggest reasons for picking Arizona to retire in is going to be the benefits of not being taxed on Social Security checks by the state. Those who happen to live on a fixed income will understand the importance of making money go as far as possible, just as they know its best when taxes are in their favor. Arizona is great for a retiree as it is a tax friendly state and they won't tax your Social Security Benefits, which is big these days. Over half of the states in the United States will tax your Social Security Benefits.
We have taken the time and compiled the information that is needed for you to make that big choices about where you want to live after you retire. Here you will find some of the top reasons for making Arizona the top place to retire to.
Outdoor Activities in Arizona
Arizona has a lot of outdoor activities to offer like skiing, which can be done in Flagstaff, hang gliding across the desert, white water rafting, Championship golf courses and plenty of fishing on the Colorado River.
Arizona is home to the Grand Canyon National Park and even Red Rock State Park which is located near Sedona, which includes many other parks. Arizona has plenty of fabulous and free entertainment. Arizona is also the place to go if you happen to have really bad allergies. This is because of the dry air and climate that it offers what the rest of the country can't, and that is allergy relief.
Then there is Arizona's Grand Canyon that is the epicenter of desert golf, and it has more than 70 public golf courses and each one is highly ranked which attracts millions of golf enthusiasts.
You can even have the great outdoors in your backyard. There is plenty of wildlife that you can view such as bobcats, roadrunners, javelinas which is like a furry pig, coyotes, and snakes. Most of Arizona doesn't have snow, which means you don't have to worry about shoveling snow.
World Class Arabian Horse Show
In 1995 Scottsdale started their Arabian Horse Show, which features more than 2000 of the most alluring Arabian horses in the whole world. Thousands of people come from all over the globe to watch trainers, owners and breeders that come from around the world to compete. You are able to visit more than 300 different booths and vendors that are having demonstrations, showcasing food and various seminars.
There is also a city that will fit style in Arizona. Phoenix, is a highly affordable yet livable city. Sedona is considered to be a spiritual haven and is a visual miracle. Flagstaff is located at a higher elevation when compared to the rest of the state which makes it cooler and the scenery is so breathtaking that it attracts outdoor enthusiasts and offers a liberal contingency. Not to mention that is located close to Phoenix for those who want to go to the big city ever so often. Phoenix, Arizona is the home to rock star Alice Cooper. One of the biggest events in Arizona is the Arizona State Fair which attracts more than 1 million visitors to Arizona to enjoy rodeos, watch races, enjoy concerts, view livestock and to check out all the food booths.
Weather in Arizona
Arizona is able to offer a lot of sunshine and great weather. It is during winter that the temperatures will be around the same temperatures that the southeast has during summer months, only without all the humidity. The average rainfall for Arizona can range to under 3 inches in the desert areas to over 30 inches for the mountain areas a year. You are able to find both sunny and dry days and the nights are a bit cooler. The biggest cities in Arizona will have more than 250 days of sunshine a year. Flagstaff is one of the cities that has cooler weather, for those who enjoy a change in the weather.
Scottsdale Culinary Festival
Each year there is the Culinary Festival that is hosted in Scottsdale, which is the culinary festival that is the longest running in the United States. It attracts well over 36,000 visitors every single year. This festival runs for 6 days and it showcases celebrity chefs, gourmet foods, fine wines, microbrews, and restaurants. Then there is the Sonoran Hot Dog which was created in Tucson, Arizona, which is considered to be a real culinary treat that is unique to Arizona. This is basically a hotdog that is wrapped in bacon and then served on toasted white bun. It then gets layered with jalapenos, chopped tomatoes, mayo, mustard, onions, and pinto beans. Arizona also has a lot of unique foods to offer like prickly pear margaritas, cactus jelly, and mesquite honey.
Interesting Arizona Facts
Located in Prescott, Arizona is the oldest rodeo in the world. It started in 1888 and it is for those who would like to try bull riding or just want to watch others handle the bulls.
Another interesting fact is that the original London Bridge that was in London, England was actually moved to Lake Havasu City, Arizona and rededicated in 1971. That is pretty cool.
In Arizona, there are more than 25 Native American Tribes that are represented, and it represents the most percentage for the United States to have land designated for the Native Americans and it is referred to as the Indian Lands.
If you want to go back in time to the 1960's, then there is the Tucson Folk Festival hosted in Tucson, Arizona. This festival attracts more than 10,000 folk music lovers and it is rated to be a top United States Folk Festivals, and it offers more than 20 hours of free live music which features Irish, old country, bluegrass and western music.
The housing located within Arizona is actually affordable. The median value for an Arizona home, according to recent data is just a bit more than $179,000 with the median for rentals being $1,100. Not to mention that there is the extra benefit of lower heating costs. You should keep in mind that it is cheaper to keep your home cooled than to heat it.
This is still a big kicker! Arizona does not tax Social Security Benefits! So, there is no estate tax, gift tax, or inheritance tax.
Retirement Communities Arizona
These are only some of the biggest reasons to retire in Arizona. Take a moment and share with us the reasons that you loved visiting Arizona or why you love living in Arizona. If you are thinking about retiring to Arizona, do not forget to check out the senior living services that we provide. Besides assisted living, we also offer home care services, memory care and independent living for the state of Arizona. All of our offered services are done by highly trained and skilled senior care providers at either one of our locations or in your home. Call us at 928-399-4091 for independent living information or at  928-985-6259 for assisted living information.