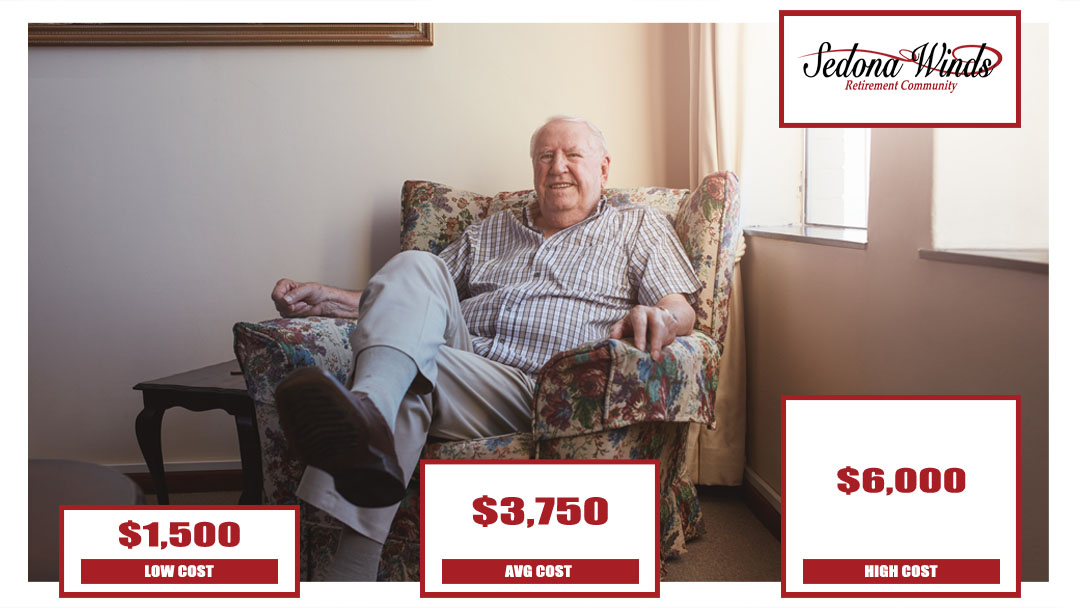 The cost of independent living will vary by location, care given, and services provided.  Keep reading to find out the average costs of independent living.
On average, independent living costs around $3,750 each year with average costs ranging from $1,500 to $6,000 each year in 2021 as reported by whereyoulivematters.com.
Elmcroft backs this up by stating, "Depending upon the area of the country you live in and what type of services and amenities are included, the price range for independent living is generally between $1,500 and $6,000 a month."
A simple 'Service Rate' each month runs between $1,000 and $10,000, respectfully
A lot of apartments run around $2,300 and $3,500.
The one-time fees in which comprise of the admission and apartment preparation runs between $500 and $1,500.
The prices above are for informational purposes only, for educating those curious about senior housing's general cost. A community's particular price range will vary and might be different to the typical costs listed above.
Amenities and Service Costs
Monthly rent is going to typically include several services, like the following:
All utilities excluding phone services or extended cable.
They keep a full schedule for different activities, scheduled transportation for things like doctor's appointments, off-site activities, and shopping, etc.
Housekeeping comes on a routine weekly basis, which comprises of washing bed linens and bath towels.
They offer one to three meals a day that are prepared by a chef and served in a restaurant-style dining area.
They offer maintenance for different contingents, like HVAC filter changes, repairs on appliances, and more.
Emergency systems are in place and they offer several security features.
Any added charges are going to generally be the admission and/or community fees (that are non-refundable), and can range between $750 – $1,500 on average, which will cover the managerial expenses and building renovation costs. An expense for a second individual, if there is going to be one living there, this cost is typically between $500 – $1,000 each month, which can be evaluated for couples.
It would be wise to compare the costs that are related with both, residing in a home as a single family and moving to an independent living community, seek out the financial impact of each prior to making any decisions. A good piece of advice –  "Small Expenses do make an Impact on Seniors Lifestyles." Don't take for granted or underestimate expenses that are spent on dining, and the expense put towards the purchase of personal items.
Sedona Winds Retirement Offers Independent Living In Sedona
Sedona Winds Retirement Community offers independent living, memory care, and assisted living in Sedona, Arizona. Call us today at 928-284-9077 and learn more about our facility and what we have to offer today's seniors.
More Articles About Assisted Living