What is Memory Care? | Questions to ask the Facility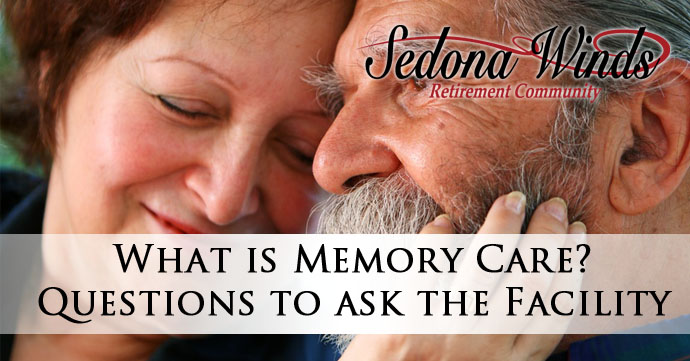 If you are searching for the phrase "what is memory care" or "questions to ask the facility", this post should point you in the right direction. You or your loved on needs to know the right questions to ask when looking for a memory care facility.
Memory care is a unique type of long term care which has been designed to focus on certain requirements of those who have various memory problems such as dementia and Alzheimer's. In choosing an option for memory care you might want to put a list together of the questions you should be asking that cover all the concerns regarding the care, safety, and comfort of your loved one.
The Typical Services For Memory Care
There are questions that should be asked in order to locate the correct memory care facility for a loved one, questions regarding the costs, as well as what services are provided. Although communities of a Memory Care facility may offer numerous services, be certain that your loved one will be interested in a few of them. Should you be having thoughts of memory care for someone you love, then you should also understand that facilities for assisted living have communities that offer a separate floor/wing or their special memory care unit.
Then there is the option of an facilities that focus on independent memory care, it is important to remember that a memory care community consists of more specialized nursing skills, whereas, an assisted living community does not. Whether or not the memory care facility is in the same community and a part of the assisted living community, the cost is going to be higher. It does not matter which you choose, an SCU or a memory care unit you should find out if the staff undergo any special training in helping those with dementia and/or impaired cognition. The services that are most common are: medical monitoring, daily assistance with personal tasks and etc., supervised care 24-hours a day, 7-days per week. Additionally, they have a pleasant environment and the community is easy to navigate around.
Before making a decision on a memory care community, ask the following questions:
When you begin searching for the right memory care facility, you'll come up with your own list of the best choices. When possible, it's significant to take the time and tour each community. Ask question regarding that staff as well as the families of the other residents staying in the facility, this helps in determining whether or not that facility is the right place for your loved one.
When considering a memory care facility for the one you love, you can use the following questions while searching for the right one:
Does the community offer the level of care you want for your loved one?

Do they offer private or semi-private rooms? What's the difference in the price for each?

How much do they charge for their monthly rates on housing, including care? What different kinds of services are included in that rate?

Has the staff had training? If so, what kind of training have they had?

In your opinion, what can the residents look forward to for their level of personal assistance?

What are the procedures and policies on handling sudden medical emergencies?

How do they go about letting families know of resident's well-being?

Do they provide meals? I so, which meals do they provide? Will they be accommodating if special dietary requests are made (like kosher meals)?

Do they provide housekeeping and laundry services? If so, how often?

Is this facility accommodating to the needs of special care residents, such as problems with mobility, those who get aggressive physically, those who wander off, and those who are in need of diabetic care?

What are the different programs offered by the facility (such as physical therapy, exercises, and socially), among others?

Does the facility group their residents by cognitive level?

How many staff members do they have in ratio to the number of residents throughout the daytime hours? How many throughout the night hours?

What measures are taken to make certain the residents are safe and secure?

What kind of discharge policies do they have?
For families that have to make the decisions regarding the care of their loved one who lives a long distance from where they do, should take into consideration what the travel costs will be, as well as learning a head of time where the community is located.
It helps to have an Advocate while searching
It helps to have an Advocate during the time you are searching for a community for your loved one, and "A Place For Mom's Senior Living Advisers" can help with that, whether you are seeking a Community for the Assisted Living or a Community for Memory Care, or maybe an all-in-one facility. 'A Place For Mom's Senior Living Advisers' can be of assistance in devising you a plan, as well as in offering their local expertise of the communities that are available in the area where you reside.
You should consider talking with others who that have already gone through a process of making these decisions. Their knowledge on the matter could be very helpful in your own search, giving you and your loved one some much needed support during such a trying time in your family's life.
Memory Care In Sedona, Arizona
Sedona Winds is an assisted living facility in Sedona, Arizona. To schedule a tour of our assisted living facility, SLS Communities or for more information please call us today at 623-544-4777.