Benefits of Independent Living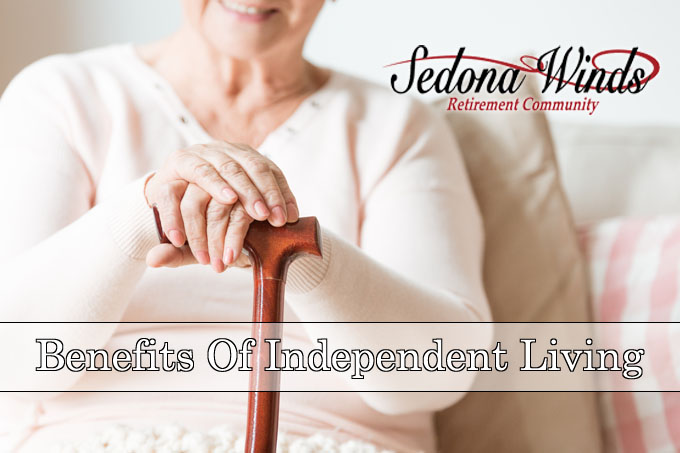 Do you want to find out more about the "benefits of independent living"? This post by Sedona Winds Retirement can help. If you are worried about the security and safety of your elderly loved one, you may want to consider independent living. Independent living is ideal for seniors who can still live without needing assistance but relish in the peace of mind of having assistance if or when it is needed.
With high-quality, apartment living, today's seniors can move from their high priced, high-maintenance houses easier than ever. These communities are designed for its residents to find their way around easily (whether a resident is wheelchair bound, needs a walker or in maybe even mobile), as they are small, compact and free of potential dangers.
Senior Social Connections
Independent living wants its residents to participate in the community at a level they are comfortable with. With events year-round, intimate movie nights, physical fitness centers, and barbers and beauty salons, all within walking distance, they can easily reach out and communicate with the rest of the fellow seniors and the community.
24 Hour Security and Safety
24-hour security and safety means taking care of access to the community and its residents. This also means ensuring that our residents' needs are taken care of and emergencies are identified and replied to promptly. Independent living communities deal with this by taking care of all the maintenance, providing 24-hour security and safety.
Senior Independence Time
One of the most popular reasons that today's senior's transition from their homes to independent living is the independence they acquire. Moving from a regular house reduces personal duties, errands and time spent on maintaining their home. Residents also find that independent living gives them time to find out about other activities and hobbies.
Independent living communities have the same intentions as its seniors – to keep them as independent as they can without infringing on their self-respect or privacy. This means they only provide assistance as the residents need it. Some additional community tasks include housekeeping, laundry services, and planned transportation, as well as a 24 hour emergency response network, and a highly skilled and trained nursing staff.
Independent Living Features
With each monthly payment, they will be able to treat themselves to any number of services the community makes available. Even though more advanced medical care services are likely to come at added costs, staff are available 24 hours a day, 7 a week to make sure their needs are met accordingly.
Of the many advantages to independent living, the main one's seniors look for include:
Utilities Pre-Paid Monthly
Completely Furnished Living Areas And Stylish Floor Plans
Refined Meal Choices And Plans
Housekeeping And Laundry Services
Gyms And Fitness Centers
Quiet Reading Areas
Staff Available 24/7
Security And Emergency Services
Available Transportation
Find Independent Living In Sedona
Sedona Winds Retirement Community offers independent living in Sedona, Arizona, can help! Call us today at 928-985-6259 and learn more about our facility and what we have to offer today's seniors.