Things to Do in Sedona for Retirees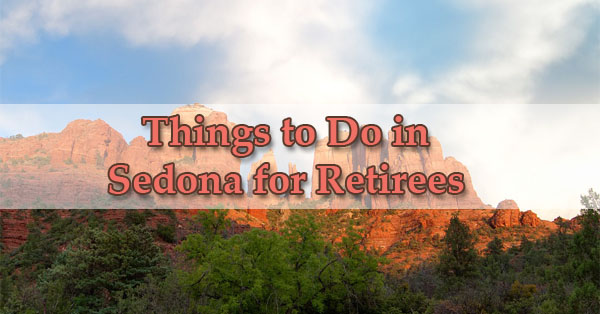 Are you a retiree looking for things to do in Sedona, Arizona? If so this post should help!
There Are Many Things to Do in Sedona for Retirees
It does not matter how long you are in Sedona; it is never enough to see it all. There are clusters of natural wonders everywhere you go, and making a list of specific attractions can be hard, but the following are some of the premier highlights in Sedona.
The Chapel of the Holy Cross
When it comes to art, the most compelling is not found within a gallery, rather it is emerging from the ground with stone towers surrounding it. The Chapel of the Holy Cross was sculpted by Marguerite Brunswig Staude, finished in 1957. It is 200 feet in height, erected between two rock pillars. The backdrop is created with salmon colored cliffs, while the chapel interior is unadorned. It consists of some tapestries, a few benches, and a meditative and serene atmosphere is created by flickering candles. The windows span from the floor to the ceiling, allowing soft sunlight to enter.
Art and Galleries
The natural beauty around Sedona has been an inspiration for many inspiring artists of all types. Throughout the city, public artwork can be discovered for enjoyment from all. The Gallery District is located just outside of Uptown Sedona, walking through is a delightful activity with other locations easily reached by taking the Trolley system or a short drive. We hope to see you in the art filled plazas and parks. It is recommended you use a map for a guide.
Cathedral Rock
If you have ever viewed images of Sedona, there is a good chance that you have looked at Crescent Moon Picnic Area, which the locals refer to as Red Rock Crossing. The view of Oak Creek as it flows in front of Cathedral Rock is majestic and among the most photographed sights in the Southwest. It is common to find brides and grooms posing for a wedding portrait on the banks. The stream is shallow, flowing past the Cathedral Rock base, then through forested groves. Across from Cathedral Rock, you find dozens of rock totems, which many refer to as Mini-Stonehenge. However, it is Buddha Beach and considered to be the location of a strong vortex.
8 Hiking Tips for the Desert
If you are one of those who enjoy a challenge, Schnebly Hill Road is a popular location. It takes you on an ascent through red rock, with at twisted path into the Colorado Plateau of pine forests that has a sprawling vista. It is an old wagon road that was carved by Sedona pioneers out of the rocky hillsides during the turn of the last century. Since then, it has not changed much. While the first mile has been paved, do not let this fool you as it quickly becomes primitive land with the path ledged, veined, and pockmarked with rock fragments. The steady climb, you cross sandstone formations, until you reach Mingus Mountain located on the far edges of Verde Valley. Without a high clearance vehicle, you can always take a jeep tour!
Slide & Red Rock State Park
There are two amazing state parks that bracket Sedona. Just seven miles north is a stone bank that speeds the Oak Creek down the channel, making a natural water riding adventure in what used to be an orchard. The path has various depths of pools, which range from wading to swimming depth.
Slide Rock State Park
When it comes to swimming holes, Slide Rock State Park is one of the most popular locations. Note, you should wear sturdy shorts or cut-offs. If you arrive in non-swimming season, you can still have fun wandering around the old orchard, exploring the creek banks. There are many scenic locations great for an afternoon picnic.
Red Rock State Park
Meanwhile, Red Rock State Park provides another satisfying activity that does not require peeling off wet bathing suits. Located Southwest of town, the park consists of wilderness that was reinvented and developed to be a living laboratory. It is 286 acres of preserved nature filled with various trails, including Creekside paths to more dramatic vistas. There are daily activities conducted by volunteers and staff alike, such as wildflower talks, bird watching tours, geology discussions, moonlight hikes and more.
Thinking about Retiring in Sedona, Arizona
If you're thinking about retiring in Sedona, Arizona, give Sedona Winds Retirement Community a call today at 1-928-399-4091.