Why Retire In Sedona Arizona?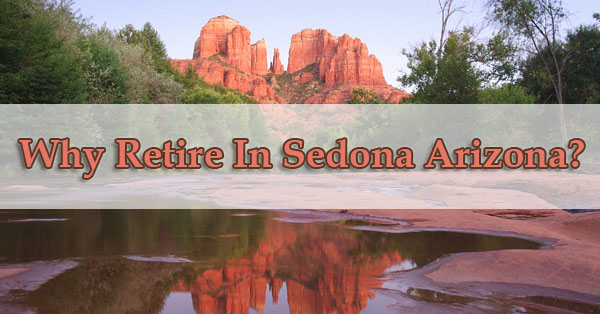 Sedona Arizona is a well known tourist destination, hosting many activities and sights to see for retirees. For example, Sedona is most known for their "Red Rocks", which were seen in countless western films like, Jimmy Stewart's "Broken Arrow". The color effects displayed on the sandstone rocks during the sunrises and sunsets  in Sedona are amazing! This beauty coupled with moderate climates and mountains that stretch for miles have made Sedona one of the most sought after retirement communities in the United States.
According to at least one source, Sedona, Arizona is actually rated as one of the top 20 retirement destinations in the country. The arts and hiking are of the most notable here. Many music and film events such as the International Film Festival are hosted in Sedona, but most choose Sedona for its beautiful setting and warm climate.
What is the population of Sedona?
The population of Sedona Arizona in 2017 is just 10,336 according to the latest US Census Bureau.
What is special about this retirement community
The Red Rocks of Sedona are Breathtaking
6 Million Acres of National Forest
Hiking
Sightseeing
Shopping
Horseback Riding
Sedona International Film Festival
What is not special about this retirement community
Lots of tourists
Overdeveloping fast
Expensive Real Estate
What kind of people retire in Sedona?

Sedona attracts all kinds of retirees but mostly ones interested in outdoor activities, great scenery, and the arts. Real estate is a bit more pricey than the rest of the US, so the type of residents that retire in Sedona tend to be affluent. Average retired age is 50.
Economy
Sedona has a booming economy due to its popular retirement and tourists destinations. Components include: retail, services, construction, and hospitality.
Cultural Scene & Restaurants
Sedona Jazz on the Rocks festival
Sedona Arts Center
Arizona Opera League
Coconino Community College
Yavapai College
NORAZ Poets
Galleries
Crime Rate
Low crime rate. Crime rate is Sedona is 50% of the US average
Medical
Northern Arizona Homecare
Flagstaff Medical Center
Sedona Medical Center
Transportation
Chamber of Commerce
The Sedona Chamber of Commerce
What other potential retirees are saying about Sedona
If you are looking for an action-packed retirement place, Sedona is not the one! Sedona is a perfect place for a mellow, quiet retirement. Once just a dusty blip on the map, this city is all grown up now and has become a much desired retirement spot.