Inspirational Retirement Quotes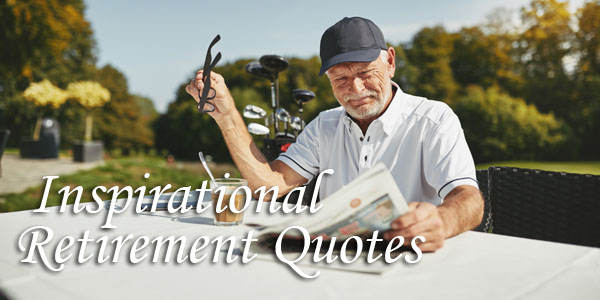 30 Inspirational Retirement Quotes
Retirement gives you the chance to rest they say. I believe it's your chance to live!
Since you'll gain new habits now, don't forget about us!
For a lot of us, retirement is a time of personal growth, which turns into the path to greater independence.
Retirement means having the freedom to chase down your hopes and dreams and make them a reality.
Best of luck with your retirement. I hope everything you want comes your way.
For a person who worked hard every day, congrats on your retirement. You're worth of a nice long break.
Try not to act your age when you retire, be the inner youth you've always been.
There is a whole new kind of life ahead of you, full of experiences just waiting to happen. Some call it "retirement." I call it bliss.
Finding happiness in retirement, means appreciating the smaller things in life.
If you plan right, your retirement will be more blissful than you could ever imagine.
Congratulations on your promotion, retirement is the best position.
Now that you're retired, you can start your amateur photography career, congratulations.
Your morning coffees are now what they are meant to be – relaxed and calming.
Relax and have fun, but don't allow your retirement put out the fire in your belly.
Retirement is great, without having a job, you can have a life.
Retirement is one of life's biggest irony – you'll soon get bored and start looking for things to do.
One of the biggest parties in your life is about to begin, stock up on tasty food, drinks and great music.
Congratulation on gaining your "me time". Enjoy your retirement.
Thank you for being part of the team, you will be greatly missed.
What a wonderful day for you, congratulations on your well-deserved retirement.
Be happy and live out your retirement dreams and aspirations to their fullest.
You are truly an inspiration to us all, happy retirement.
Here's to a happy and stress free, relaxing retirement.
It's hard to be happy and sad at the same time. No one is more loved or distinguished has earned the right to retire.
We must admit, we are all a little bit jealous, enjoy your retirement.
Happy retirement, just remember, you will never have a day off again.
Now that you're retired you have the time to find out what you are passionate about and the time to follow through.
Now that you are retired, you can start your new career, amateur golfer!
You can do all things you couldn't do while you were working. Happy retirement!
Now you can aspire to be the fisherman you've always wanted to be. Congrats on your retirement.
Read more inspirational retirement quotes at SLS Communities.