What are the similarities and differences between assisted and independent living communities? Follow our guide to find out!
What is Independent Living?
Independent living is merely a living arrangement for seniors that are 55 or older. There are a couple of omissions to this. Housing for seniors is going to differ in kinds like free-standing homes, senior retirement communities, and apartment living. Senior housing is going to have a friendly atmosphere, they are more compact, and are equipped to allow seniors to get around easily and all ground-work and/or maintenance is taken care of for them.
A lot of independent living communities are going to provide its residents with various activities and programs, other services, in addition to amenities. Independent living housing usually has a rec center and/or clubhouse that is going to allow seniors to interact with others their own age. Independent living also will have community participation in arts & crafts, holiday meeting, movie nights, and other kinds of activities.
The facility might have amenities such as a fitness center, swimming pools, tennis court, golf courses, an assortment of clubs and interest associations. There will be other services like on-site spas, meals each day, housekeeping, laundry facilities and barber & beauty salons.
What Is Assisted Living?
The biggest difference between assisted living and independent living is the amount of care provided. In an assisted living community or facility, the staff is much more attentive to the needs of all the residents. Daily services like help bathing, laundry, housekeeping and medical care will be offered. The majority of these communities will also have staff on call 24 hours a day, 7 days per week.
Overall cost is one of the deciding factors for most residents picking between assisted and independent offerings. The financial responsibilities for an assisted living resident will far outweigh those of an independent resident. Specific meal plans and round-the-clock care make assisted living the more expensive option of the two living situations. Typical costs like utilities and rent make up the majority of independent costs, unlike assisted living.
How Much Does Independent Living Cost?
The cost of independent living will vary by location, care given, and services provided.  Keep reading to find out the average costs of independent living. On average, independent living costs around $3,750 each year with average costs ranging from $1,500 to $6,000, as reported by whereyoulivematters.com.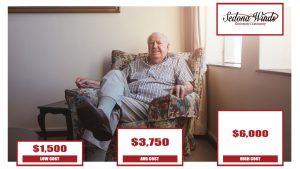 How Much Does Assisted Living Cost?
Assisted living costs in Sedona, Arizona average $4,005; with high costs ranging around $5,804 and low costs ranging around $2,206. This cost is slightly below the natural average median of $3,285.
Assisted Living Amenities
Most assisted living facilities will include the following services:
Three Meals Per Day And Snacks.
All Utilities Including Cable TV.
24 Hour Staffing.
Daily Tidying Of Your Apartment.
Weekly Deep Cleaning Of Your Apartment.
Personal Laundry Weekly.
Maintenance Of Your Apartment, Grounds & Common Areas.
Scheduled Transportation To Appointments Or Shopping.
A Rich Program Of Activities.
An Emergency Call System.
Independent Living Amenities
Monthly rent is going to typically include several services, like the following:
Utilities Pre-Paid Monthly.
Completely Furnished Living Areas And Stylish Floor Plans.
Refined Meal Choices And Plans.
Housekeeping And Laundry Services.
Gyms And Fitness Centers.
Quiet Reading Areas.
Staff Available 24/7.
Security And Emergency Services.
Available Transportation.
Find Retirement Communities In Sedona
Sedona Winds Retirement Community offers independent living in Sedona, Arizona, can help! Call us today at 928-985-6259 and learn more about our facility and what we have to offer today's seniors.
More Articles About Assisted Living