Can I Retire At 60 With 500K
If you are constantly asking yourself "can I retire at 60 with 500k", the answer is yes! However, there is no easy way to attain this goal.
Follow this guide to ensure a happy and healthy retirement.
Can I Retire With 500k
The common belief is that you'll need to save at least $1 to $2 million dollars in order to retire. That tends to be a number many people strive for, but it is simply unrealistic for others. In many cases, yes, 500K in savings can be enough to retire on. With smart and meticulous budgeting, more than one household income and social security/pension collection, it is possible to enjoy a happy and healthy retirement with a smaller amount in the bank.
Follow these three crucial steps towards retirement by age 60:
Set A Budget
Save Money Now
Location, Location, Location
Set A Budget
Setting and living on a budget are two very different things. It's important to enjoy your current living situation while also planning and saving for the future at the same time. Basic living expenses should all be on a tight budget. These can include housing, utilities, transportation and even healthcare. So, how can you come up with an exact monthly or yearly budget? The experts suggest going over all your expenses from the prior year. Figure out what you can cut back on or cut out, entirely. If retirement at 60 is your goal, do not wait until your 40s or 50s to make lifestyle adjustments.
Save Money Now
The more you save today means you'll have more tomorrow. The experts suggest saving as much money as possible while you are young and middle aged. Fortunately, there are many ways to save beyond the traditional methods. Consider opening a traditional or Roth IRA. Always take advantage of any unexpected savings, such as a work bonus or raise. If your employer offers a retirement plan, see if they will fully match any contribution amount.
Location, Location, Location
It's all about location! While this may be extremely difficult, consider moving to an area with a lower cost of living, if possible. Of course, this is a tough ask for anyone raising kids or living paycheck to paycheck. Instead, location can apply to your retirement plans. If you are going to live off 500K, chances are you won't be able to afford living in a luxurious area. Refrain from living above your means, especially when retired.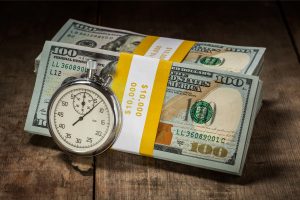 Other Ways To Save For Retirement
The simplest way to begin saving for retirement at any age is by putting your tax return away once you received it. Do this every single year, if you can afford it. There are several options with how you can save or invest this return each season. IRS Form 8888 will allow taxpayers to deposit the refund directly into two or more separate savings or investment accounts. Be sure to refrain from spending your tax refund and put it away for retirement.
If you are self-employed and not earning a ton of money per year, a 401k plan is still an option. This plan is also known as a solo 401k. With this option, you can contribute twice. You can contribute savings as an employee and employer. Self-employed 401ks allow you to contribute up to 100% of your yearly income, as long as the total amount doesn't exceed $19,500. The contribution differs from the employer side, only allowing individuals to contribute 25% of yearly compensation. After the age of 50, you can make additional contributions to this 401k. Spouses of participants are also eligible for this plan.
A CD or certificate of deposit offers another option for individuals without a 401k. Everyone could use some liquid cash, right? One obvious benefit is that most of the time your money can be withdrawn on demand. So, if you run into any medical emergencies or pressing financial situations, you can pull this money out right away. CDs are insured by the federal government to never lose any value. CDs are as safe an investment as one can make today.
Find Retirement Communities In Sedona
Sedona Winds Retirement Community offers independent living in Sedona, Arizona, can help! Call us today at 928-985-6259 and learn more about our facility and what we have to offer today's seniors.
More Articles About Assisted Living