Top 10 Things To Know Before Moving To Arizona
What should you know about Arizona before you call the valley of the sun your new home? Check out our list of 10 things everyone needs to know!
1. Arizonans Like It Hot
If you don't mind a little heat during the summertime, you will truly enjoy Arizona's weather. Generally, the climate is dry and sunny all year, but winters are springs can be mild and beautiful. From October to April, Arizona is a paradise for outdoor lovers. Enjoy all the scenic trails, hikes and lakes Arizona has to offer during these months. Monsoon season is June through August, finally bringing some much-needed rainfall to the desert.
2. Cost Of Living In Arizona
Depending on where you choose to settle in the state, the cost of living can be pretty reasonable. According to PayScale, the cost of living in the Phoenix area is 5% lower than the national average. Currently, the average income in Arizona is $59,000. Rent is affordable in cities like Tempe, Tucson and Phoenix.
3. Arizona Offers More Than Just A Desert
Everyone agrees that Arizona is beautiful! There is much more to this state than just the desert, though. Mountain ranges can be seen nearly everywhere, as well as all the colorful cacti. With 433 cities across the state, residents will find a wide variety of skyscrapers, canyons, lakes and forests.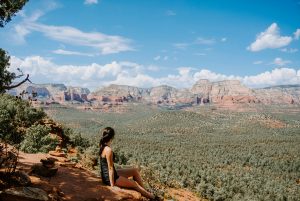 4. A Great Place For Sports Fans
Arizona currently hosts teams from the four major sports leagues. These teams are the Arizona Cardinals (NFL), Arizona Diamondbacks (MLB), Phoenix Suns (NBA) and Arizona Coyotes (NHL). Yet, there is way more than that for sports fans! In addition to Division-1 college athletics, the valley is home to baseball's spring training. Popular teams like the Chicago Cubs, Los Angeles Angels, Oakland A's and San Francisco Giants, among others, flock to the valley each spring.
5. It Does Snow In Arizona
The northern half of Arizona will experience some snowfall during the winter. You may not experience any snowy conditions in Scottsdale or Tucson, but world-class skiing and snowboarding options are just a few hours away in Flagstaff.
6. Home Of The Grand Canyon
The world's greatest wonder, the Grand Canyon, can be found in Arizona. This mile-deep gorge spanning 277 miles is truly breathtaking.

7. The Wild West Remains Intact
Long before Arizona became a state, it was home to some of the most infamous outlaws around. A lot of historic gunfights happened in Arizona, as well. Many of these old towns have been preserved, making them great spots for day-trips.
8. Look Out For Haboobs
Blizzards, tornadoes and earthquakes may be a thing of the past, but Arizona has some inclement weather that is truly unique: haboobs. Haboobs are dust storms that look like an apocalypse. These storms will generally pass quickly, but staying on the road to video the storms is not recommended.
9. Diverse Food And Drink
Since so many people from all over the country continue to flock here, Arizona has a wide variety of food and drink options. With a large mix of Chicago and New York pizzerias, the locals agree it's hard to find better pizza anywhere else in the U.S. Have you ever eaten cactus? Arizona offers plenty of cactus jelly and prickly pear margaritas. A Sonoran hot dog, which is wrapped in bacon, a crispy bun and topped with tomatoes, jalapenos, pinto beans and onions, is a local favorite.
10. Arizona Cities Are Growing
A lower cost of living combined with numerous exciting career options have helped many Arizona cities to blossom over the past few decades. Phoenix continues to grow, and was just ranked as the 5th-largest city in the country. Scottsdale is home to some of the best dining and shopping offerings in the world. Tempe is known as the home of ASU, but it also hosts events year-round. Sedona is world-renowned for its breathtaking red rock beauty.

Find Retirement Communities In Sedona
Sedona Winds Retirement Community offers independent living in Sedona, Arizona, can help! Call us today at 928-985-6259 and learn more about our facility and what we have to offer today's seniors.
More Articles About Assisted Living