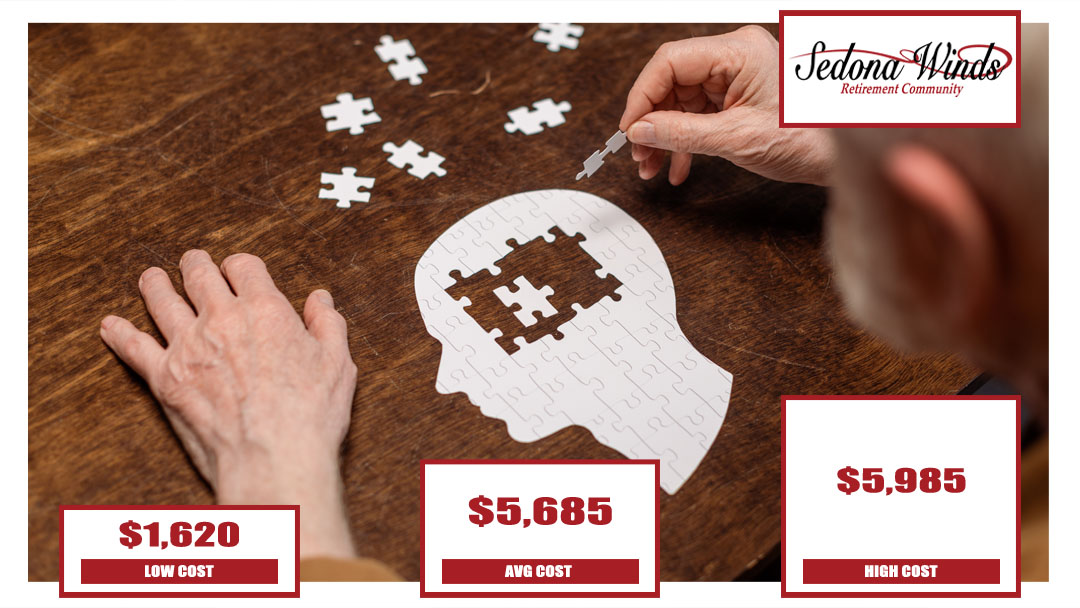 The average price for memory care in Sedona is $5,685 per month. Memory care ranges from $1,620 to $9,750 per month in 2022.
Memory Care Cost
The average cost of memory care ranges from $1,620 to $9,750 a month or more. Costs are going vary subject to location, amenities, and care requirements. While many services such as meals, medication administration, and group activities are going to be included, other amenities are optional. As an example, residents can have accessibility to laundry services, meal outings, or beauty services, like barbershop or manicures, but those could cost extra.
Memory care services are usually offered in assisted living facilities. In addition to offering the standard services like meals every day, and personalized care services, assisted living facilities that offer memory care are required to have secured and safe outdoor areas in which their residents may enjoy without the risk of roaming. Many facilities also have special programs that comprise of stable routines and therapeutic activities to encourage social interaction and cognitive engagement. Because of these enhanced security measures and program aspects, memory care usually costs 20 percent to 30 percent more than an assisted living facility.
Medicare
Medicaid
Life Insurance
Long-Term Care Insurance
Reverse Mortgage
Sedona Winds Retirement Offers Memory Care In Sedona
Sedona Winds Retirement Community offers memory care, independent living, and assisted living in Sedona, Arizona, can help! Call us today at 928-985-6259 and learn more about our facility and what we have to offer today's seniors.
More Articles About Assisted Living